All That Cotton Town Jazz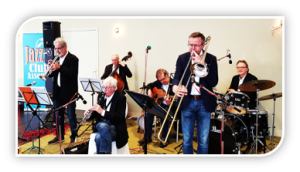 De Cotton Town Jazz Band. Opgericht in 1959. In de decennia daarop werden ze een begrip in Enschede en verre omstreken; bij hun optredens 'hingen ze er in schouwburg Irene met de benen uit…'. Aan alles komt een eind… Nog een concert willen ze geven: zondagmiddag 19 november 2023.
In deze "All That Jazzz" een uur aandacht voor de muziek van de Cotton Town Jazzband.
Cotton Town Jazzband: Blue Turning Gray Over You;
Cotton Town Jazzband: New City Stomp;
Bix Beiderbecke: Singin' The Blues;
Fletcher Henderson: Fancies;
Cotton Town Jazzband: What Cha Call'em Blues;
Cotton Town Jazzband: Eccentric;
Louis Armstrong Hot Five: Don't Forget to Mess Around;
Louis Armstrong Hot Five: Skid-Dat-De-Dat;
Cotton Town Jazzband: Olga;
Cotton Town Jazzband: Just A Little While To Stay Here;
Louis Armstrong & Duke Ellington: It Don't Mean A Thing If It Ain't Got That Swing;
Dubbelaar:
Duke Ellington: In A Mellow Tone;
Cotton Town Jazzband: In A Mellow Tone;
Cotton Town Jazzband: Sweeping The Blues Away;
Cotton Town Jazzband: Isle Of Capri;
Cotton Town Jazzband: Saturday Night Function;
Podcast: Play in new window | Download
Subscribe: RSS