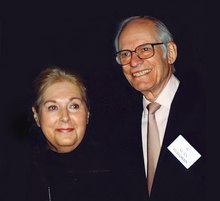 Op 8 januari 2022 is Marilyn Bergman op 93-jarige leeftijd overleden. Met haar man Alan maakte ze furore als tekstschrijver van liefdesballades voor vooral films en televisie.
De twee trouwden in 1958 en maakten samen liedjes voor veel populaire films en tv-series in de jaren 60, 70 en 80. Ze kregen zestien Oscarnominaties, waarvan ze er drie verzilverden. Ook wonnen ze voor hun teksten meerdere Grammy Awards en Emmy Awards.
In deze All That Jazzz een selectie van songs van Alan en Marilyn Bergman die tot het standard-repertoire van de jazz zijn gaan behoren.
Playlist:
Randy Crawford, David Sandborn: The Windmills Of Your Mind;
Dianne Reeves: The Windmills of Your Mind;
Patrick Olafson: Serenade For Sarah;
Cyrille Aimée, New Orleans Jazz Orchestra: What Are You Doing The Rest Of Your Life;
Kandace Springs: What Are You Doing The Rest Of Your Life;
Frank Sinatra: What Are You Doing The Rest Of Your Life?;
Michael Bublé: Nice 'n Easy;
Frank Sinatra, Quincy Jones: L.A. Is My Lady;
Tony Bennett, Bill Evans: You Must Believe In Spring;
Barbra Steisand: The Way We Were;
Rita Reys: The Summer Knows;
Tony Bennett, Aretha Franklin: How Do You Keep The Music Playing?
Celine Dion, Ennio Morricone: I Knew I Loved You, Before I Knew You.
Podcast: Play in new window | Download
Subscribe: RSS